Most of the early Totaranui Angus bloodlines came straight from Scotland – both foundation cows and several bulls.
Norman and Gwen Hoggard started the Totaranui Romney Stud and Totaranui Angus Stud at their first farm in Greytown, moving to what is now the home farm, Totaranui, near Pahiatua in 1944, when their daughter Mary-Anne was young.
Mr Hoggard was originally from Pahiatua – his father had a farm on the back fence of Totaranui. Norman used to dream as a boy and tell his father he was going to own that farm one day. He lived to see him do it.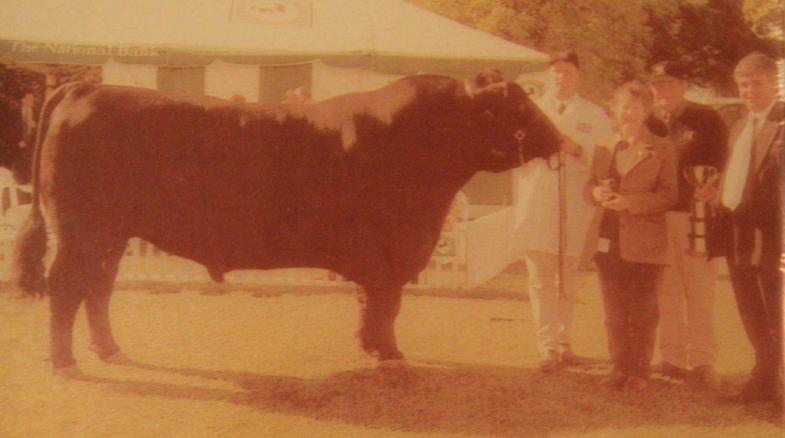 The first sires were imported from Scotland selected on pedigree. Mr Hoggard was a believer in Scottish cattle and their thickness of meat. The first was Newhouse Peranza and other early bulls included Prince Pilot of Bywell, Proctor of Westrums and Bard of Crooklands.
Foundation cows were bought from Gwavas and Matapihi and various other herds in NZ, as well as three imported from Scotland – Jovie Erica, Jolina Erica and Erica Espittal.
"These were top beef animals and many of today's notable lines go back to them," says John Jackson.
"Norman was a notable breeder with enormous memory for performance
and pedigrees. Performance in those days was the value of the bull.
Selection was always only done with pedigrees. He spent hours going through
pedigrees before the Perth bull sales in Scotland and looking at photos in
the Scottish journals.
"He never went out of the country. He would phone or write it through. He also had a fair bit to do with Johnny Arnott, the owner of Haymount Stud."
Notable herdsman in those early years were Jimmy Brown, Jim Shepherd from
Yorkshire (who loved eating pigs guts when things were tight during the war and thought the only thing wasted from a pig was its squeal), Denny Ross, Owen Adams (with the romneys) and Dave Lewis – they were at Totaranui for many years at different times, Mr Jackson says.
Totaranui doubled in acreage in Mr Hoggard's time.
"He was very determined in achieving his goals. Whether it be buying land or winning championships, he was determined and very single minded. If he set out to do something, he did it."
Totaranui rams and bulls competed in many shows thought New Zealand.
"They competed at the Invercargill Royal Show the year the Queen was out in 1954. They went down with the cattle by train from Pahiatua. We did it in later years – it was a two day exercise in our own truck so imagine the effort taking the train all that way."
Everest of Kaharau was a New Zealand-bred sire bought by Mr Hoggard in later years along with other bulls, to help bring size back into the herd. Scottish cattle had got too small and demands had changed in New Zealand.