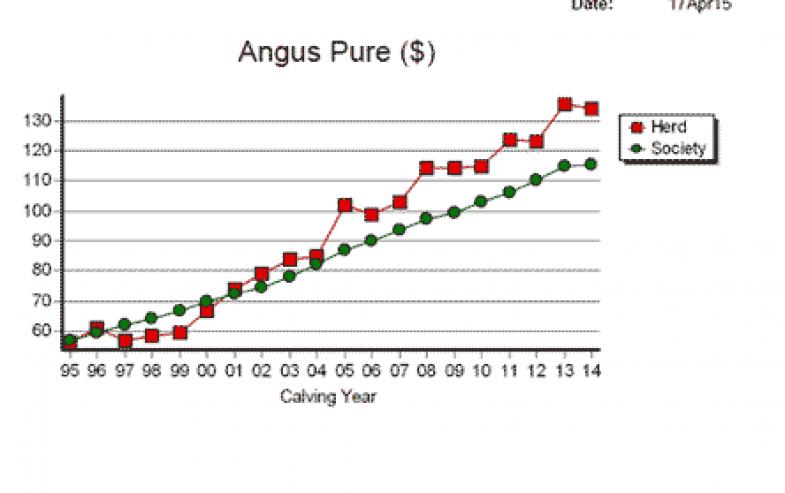 A trend is important for a stud breeder, a commercial breeder and a finisher, as we're all in it for one thing, to pay the bills and have some profit on the other side. We want to know where the genetics are taking us in relation to where the market is going. A commercial breeder is not a lot different to a stud breeder, the sire selection decisions he or she makes impacts on their herd for generations – the daughters from a bull purchase will be in the herd for potentially 10 years – and their daughters, and so on. To make a change in one's program, therefore, takes time, and quite some consideration in the genetics to use.
Herd Breedplan EBVs are EBVs not for individual animals, but EBVs for a breeder's herd. They can be used to compare stud herds, rather than individual animals.
I use the Angus Pure trend to show where Totaranui is heading, compared to the breed average, as this is an index and incorporates several EBVs into one 'easy' measure. The Angus Pure Index estimates the genetic merit in herds where some females are retained for breeding and surplus females, along with all males, are slaughtered. Steers are assumed marketed at 565 kg live weight (300 kg carcase weight and 10 mm fat depth) at 20 months of age with a significant premium paid for marbling. The index is a weighted combination of calving ease, growth, carcass weight and carcass traits.
Totaranui is diverging away from the breed average, in the right direction. This is no accident, John has been working at these genetics for a long time, the investment has been significant and it is great to see the rewards coming through. So how does this impact on our clients and their finishers? Farmers know that their herds will also trend above average in terms of producing animals that have maternal traits but also produce progeny in demand and easy to finish at 20 months; finishers know they can buy with confidence animals that are going to fit their programs and do well in terms of grading – eg, a 5% increase in yield on the hooks is worth $75 at a $5 schedule, even before meat quality premiums offered by Angus Pure, Farmpure and Silverfern Farms.